Hosting Your Multi-Day Event in Columbia
General Information
Columbia Metropolitan Convention Center
Affordably priced, with a range of twenty-first century amenities available (from free Wi-Fi to phone-charging stations, sleek modern furniture, and more), all situated in the heart of the Capital City's newly revitalized downtown, the Convention Center is pretty hard to beat if you're in the market for a multi-day event venue.
Whether your plans are just starting to come together, or it's the day of your event and you need in-the-moment assistance, you can count on the Convention Center's support to make your multi-day gathering the best that it can possibly be.
Ready to learn more about the Convention Center difference? Let's dive in.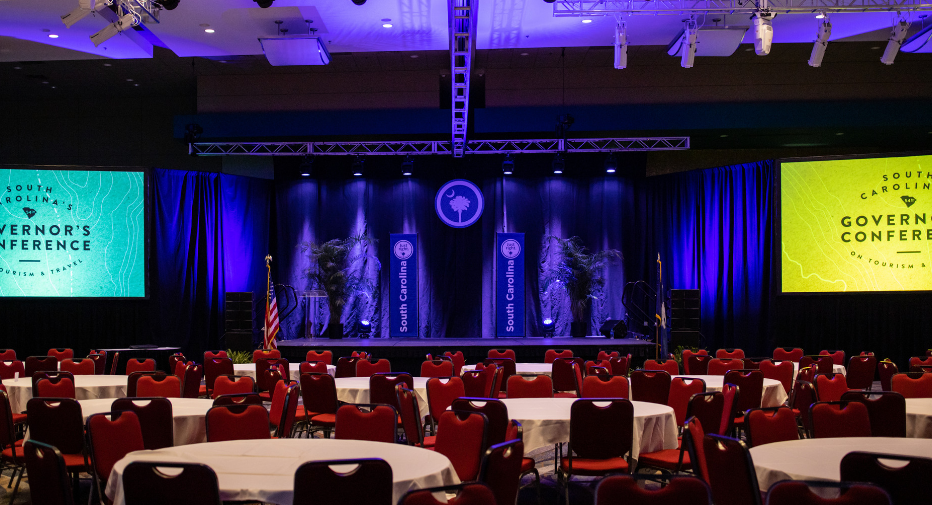 Unparalleled event strategy, on-the-ground support, and more
As if having access to a spacious, modern facility located in the heart of a bustling downtown area weren't enough, the Convention Center's dedicated staff of event-planning experts are at your disposal from the initial point of contact through the end of your gathering.
Meticulous preparation
After establishing contact and submitting your request for proposal, expect our team to get in touch with you in the weeks and months ahead for the following:
Site tour - There are event spaces to satisfy every need on the grounds of our 142,500 square-foot facility. You can either review our floor plan and virtual tour to get an idea of the spaces offered in the facility, and then submit an RFP or get in contact with one of our knowledgeable sales managers to put together a detailed proposal on the best space to suit your needs. We always recommend an in-person walk-through to help visualize how and where you'll be situated in the space.
Detail planning - Next, we'll hammer out the particulars of your event—covering everything from A/V support to security needs (security is necessary if your event involves a guest list in excess of 500 people, will be open to the public, and/or will have alcohol available for consumption), decorating support, catering requirements, and more, all by phone or during another in-person meeting.
Thoughtful event execution
Channeling huge crowds through key event spaces (such as catering areas) in a timely manner is always a challenge—particularly when you're managing an event with close to 1,000 people in attendance.
But that's exactly what the Convention Center staff was able to pull off on behalf of Clemson University's Department of Civil Engineering, whose three-day Annual Highway Engineers Conference hosted over 950 people, including 51 exhibitors and sponsors.
By leveraging the logistical talents and event-planning prowess of the Convention Center staff, Clemson was able to feed close to 1,000 attendees in less than twenty-seven minutes using carefully designed buffet lines.
All of this to say: whether you're hosting more than 1,000-plus colleagues, or you're just putting on a small private event for friends and family, expect to collaborate with a team of committed experts who will maximize the amenities and the spaces available to you.
A thriving, walkable downtown
Beyond the hospitality of the CMCC staff, you'll find the same is true for Columbia locals. Attendees will find more things to do (and more places to eat!) than there are hours to do them. Strike up a conversation with a local and you're likely to be asked to join them for dinner. 
If your guests have a hankering for some quality southern eats, then the Vista—an old industrial district that sits along the banks of the Congaree River, the same area where the Convention Center is located—should be right up their alley.
With more than 60 bars and restaurants and over 1500 hotel rooms within walking distance of the Convention Center, you'd be hard-pressed to find a more convenient spot to host your next gathering.
And, as it warms up, there are plenty of spots where you can get your grub on al fresco. Bon appetit!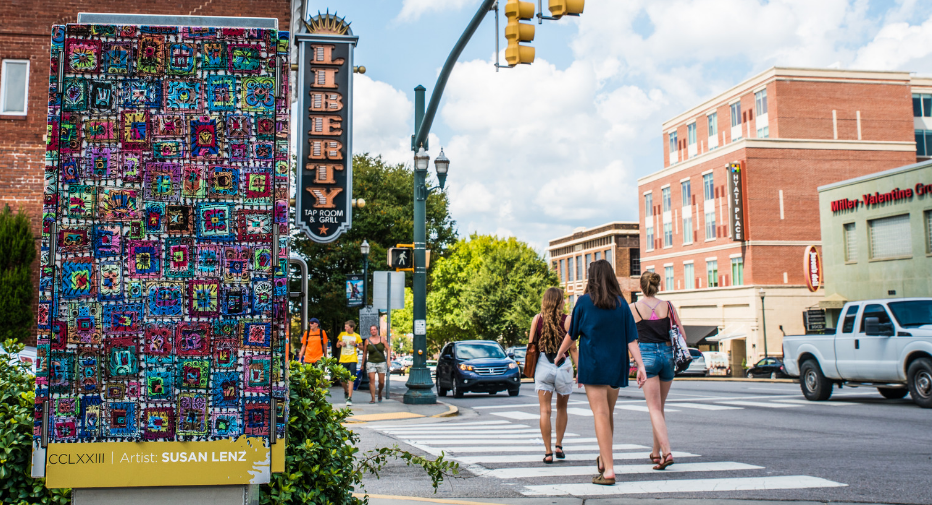 Eclectic Columbia neighborhoods, mere minutes away
Interested in an off-the-beaten-path Columbia experience?
Your guests can Uber, catch the City of Columbia's free shuttle service, the Soda Cap Connector, or use the Bike Share Program to explore the Five Points neighborhood, located on the opposite side of the University of South Carolina from Columbia's downtown area.
Whether you're hungry for international dining, or just want to enjoy a bucket of suds and a relaxed atmosphere, Five Points has plenty to offer. We recommend you check out one (or all) of the following:
Once you've made it all the way to Five Points, you'll be near the Rosewood area—which is chock full of even more delicious eateries, from Rosewood Market to Rockaway Athletic Club. And then there's always North Main, which offers all kinds of bars, restaurants, and other spots to enjoy.
Submit your request for proposal (RFP) today. Once we have a better idea of what sort of event you're trying to put together, we'll be in touch with next steps. Happy planning!