COVID-19 Resources
General Information
Columbia Metropolitan Convention Center
Our top priority is the safety and well-being of our locals and visitors alike. We have always taken pride in our cleanliness protocols and took the time while we were closed to make sure every space was deep-cleaned. Since reopening, we have safety policies in place that have allowed us to host 100+ events since June 2020.
COVID-19 Warning
Our Team has taken enhanced health and safety measures for all guests, visitors and staff members. Please follow all posted instructions while inside the Convention Center.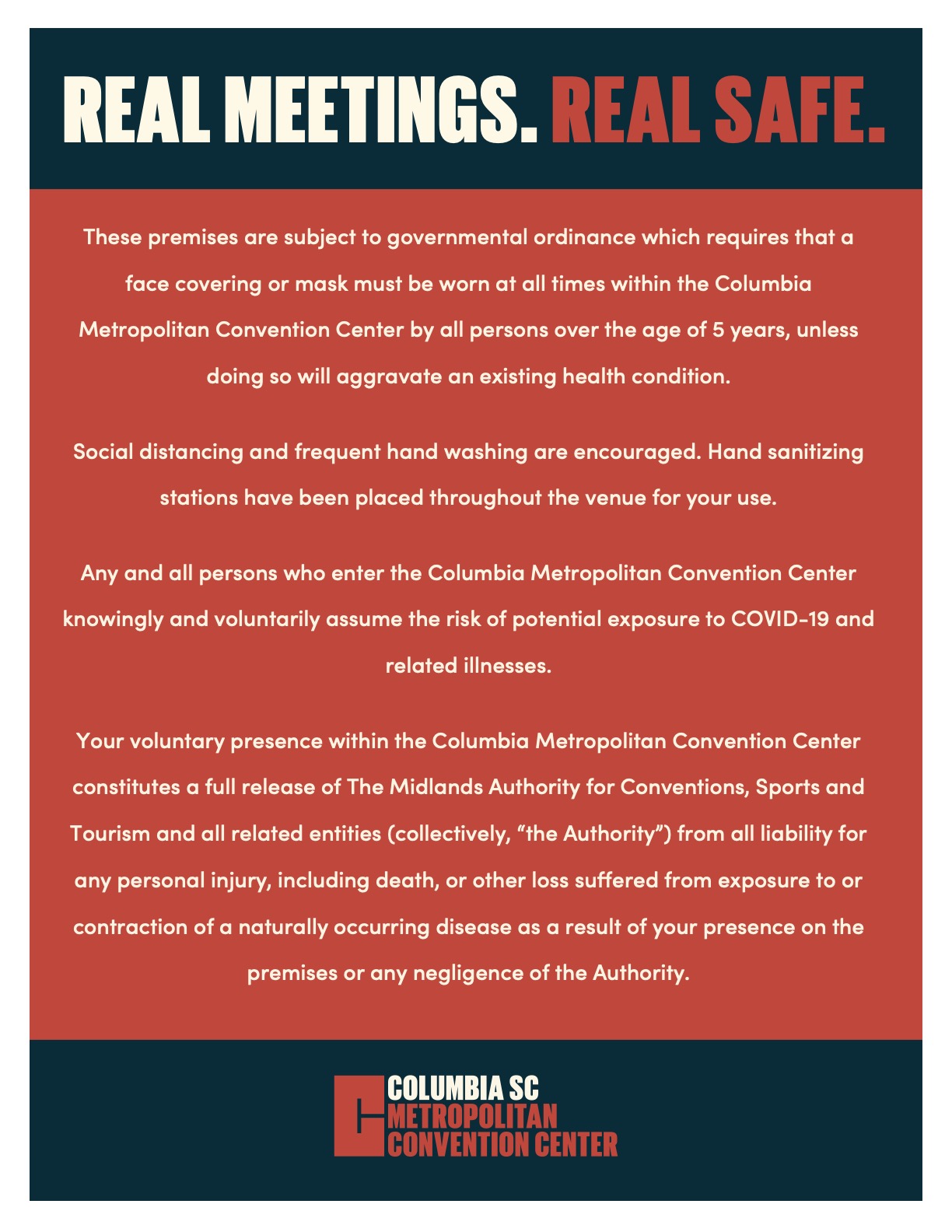 Policies for Guests & Staff:
1. In accordance with the City of Columbia mask mandate, the Columbia Metropolitan Convention Center requires a face covering or mask by all persons except under the age of 5, unless doing so will aggravate an existing health condition. Face coverings may be taken off when stopped to eat or drink. 
2. Social distancing is encouraged throughout the venue. 
3. Wash your hands frequently with soap and water for at least twenty seconds and take advantage of our hand sanitizer stations. Avoid touching your mouth, nose and face.
4. Cover your mouth and nose with a tissue when sneezing or coughing and then throw the tissue in the trash and wash your hands.
What We're Doing:
We have received the GBAC Star Facility Accreditation, the gold standard for safe facilities and the the cleaning industry's only outbreak preparation, response, and recovery accreditation. Learn more about it here.
Our thoughts are with the individuals and families affected by the Coronavirus (COVID-19). This is a constantly changing situation and we are preparing as much as we can to respond appropriately to whatever circumstances may arise going forward. 
While this has been a tough (and sometimes devastating) time for everyone, this capital city is notorious for staying gritty. We know we will get through these times together. By taking the proper precautions now, we can get back to showing off our region sooner. Use our Experience Columbia SC resources page for ideas on planning the change of scenery you seek.