COVID-19 Resources
General Information
Columbia Metropolitan Convention Center

Our top priority is the safety and well-being of our locals and visitors alike. We have always taken pride in our cleanliness protocols and that has only increased since the onset of the pandemic. The policies we have in place have allowed us to host countless meetings, trade shows and social events safely.
COVID-19 Health & Safety
Our Team has taken enhanced health and safety measures for all guests, visitors and staff members. Please follow all posted instructions while inside the Convention Metropolitan Convention Center (CMCC).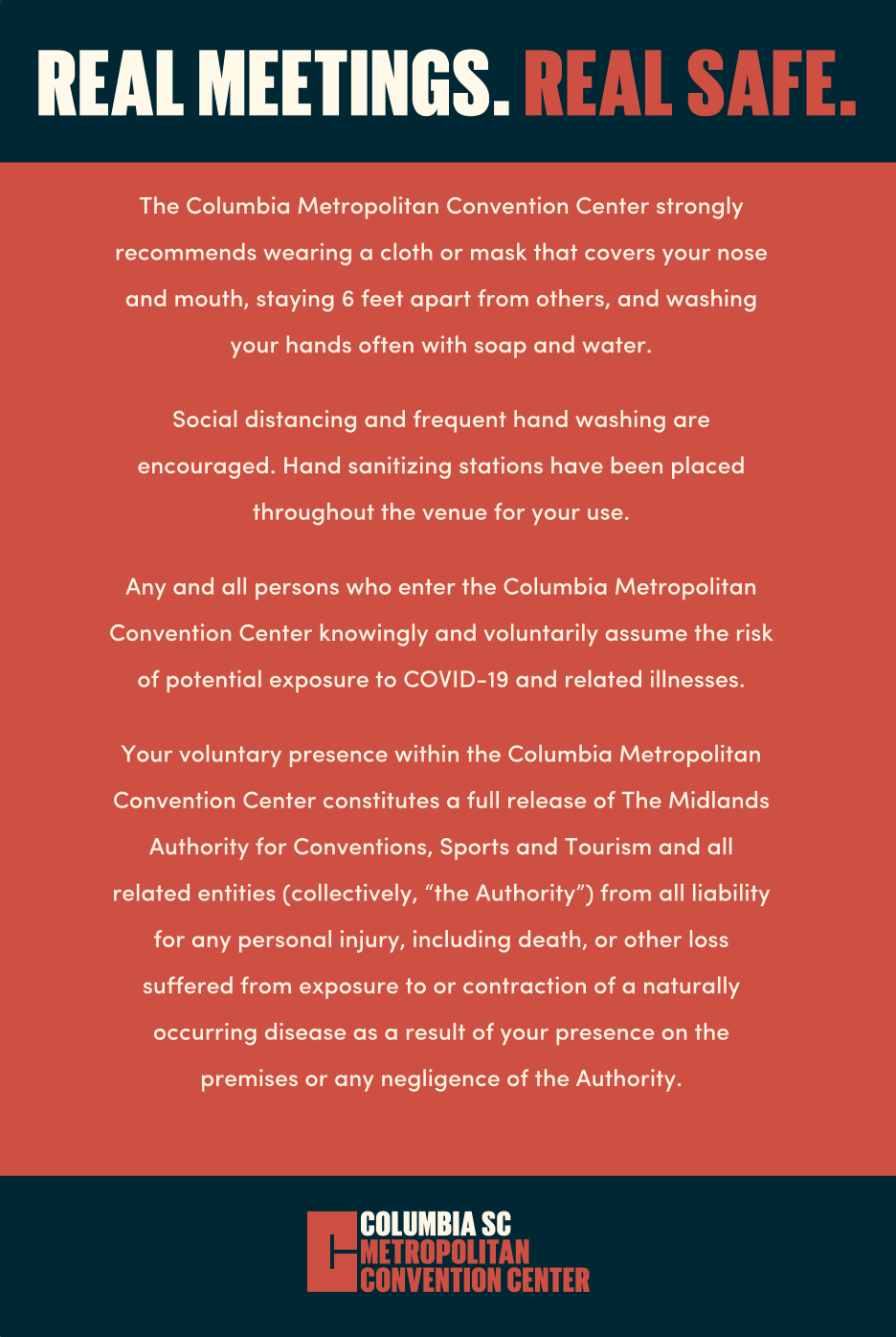 Health & Safety: The safety of our guests and staff is our number one priority. CMCC is adhering to all GBAC guidelines regarding disinfecting and sanitizing all inventory and rooms prior to your arrival. We continue to urge our clients and attendees to take health precautions including washing hands regularly, and utilizing the hand sanitizer stations that are set throughout the facility. 
What We're Doing:
We have received the GBAC Star Facility Accreditation, the gold standard for safe facilities and the the cleaning industry's only outbreak preparation, response, and recovery accreditation. Learn more about it here.
We are working hard to keep you safe while visiting the CMCC with the following policies:
The facility is outfitted with MERV-13 air filters which improve indoor air quality
We sanitize and wipe down high touch areas every 30-45min
Daily cleaning and sanitization of all restrooms
The facility remains locked except for event access to limit numbers in the facility
We disinfect rooms used for meeting space before an event begins + every evening for events lasting multiple days
We use products approved by the CDC that meets all EPA guidelines for cleaning and disinfecting for COVID-19 and many other viruses
The Columbia Metropolitan Convention Center and Midlands Authority for Conventions Sports & Tourism, along with the City of Columbia, will continue to monitor COVID-19 and may adjust these policies as warranted.