COVID-19 & Events: Tips for Hosting Your Next Event at CMCC
General Information
Columbia Metropolitan Convention Center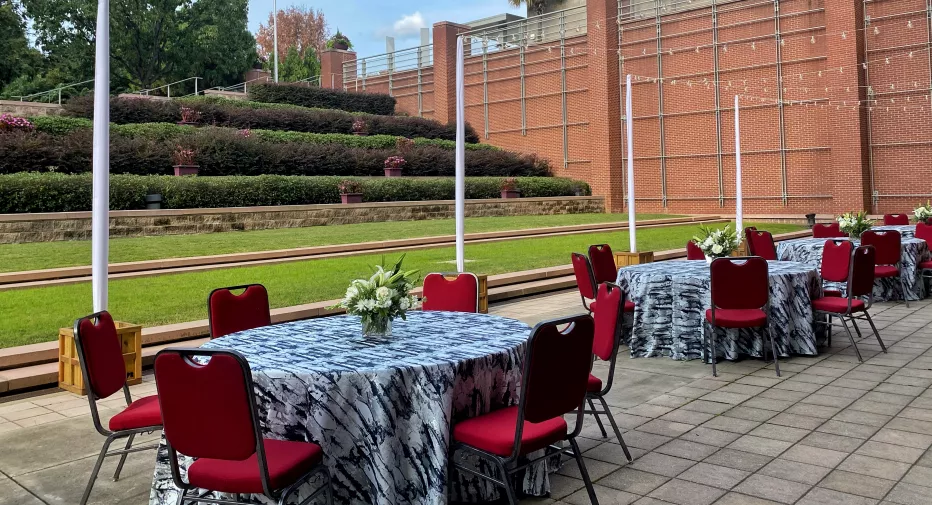 Bringing You Safe, Creative Options to Host Your Events
We're thrilled to be hosting events at the CMCC again. None of us anticipated the challenges we'd face over the past year, but as experienced problem-solvers and industry experts, we're always ready to adapt to meet the needs of our planners. 
We did our research, rolled up our sleeves, and prepped our facilities. Your health and safety is our priority, and we've adopted policies and procedures that go above and beyond.
We're proud to share that since reopening in June 2020, we've safely supported over 60 events. After 10 months of hosting and adapting to our new normal, we're ready to answer your questions about how we've modified our offerings. 
Frequently Asked Questions 
Can you host large events? 
We've safely hosted a number of events with several hundred attendees. We've calculated the max capacity of all of our open floor plans, and we also ensure it's not exceeded throughout the duration of your event. 
The two keys to safely hosting a large event are: 
Choosing a space large enough to allow for social distancing
Breaking up your event into several days or sessions to control the number and flow of attendees (if necessary)
Here's a sampling of some of the larger events we've hosted:
Sporting Events

Cornhole World Championships (800 attendees over four sessions) 
Fitness Championships (600 attendees over four sessions)
Dance Competition & Convention (600 attendees) 
Cheerleading Competition (860 attendees) 

Public Shows

Columbia House & Outdoor Living Show (1,000 attendees over three days) 
A Holiday to Remember (1,000 attendees over the weekend) 

Conventions

SC Green Industry Association (350 attendees) 

Multi-Course Dinner Events 

SC Republican Party Silver Elephant Dinner (350 attendees)
Pawmetto Lifeline Furball (400 attendees) 
How can planners modify their meal options? 
You have a number of options to safely serve food at your event. We've modified our food service to keep your attendees safe, and we've also introduced additional safety measures for our service staff.  
For example, our staff must wear PPE (gloves and masks) at all times. And they fill out a screening notice and complete a temperature check before coming to work. 
We share the following dining modifications with our planners and encourage them to choose an option based on their event size and comfort level. 
Host a concession-only event
Provide boxed meals—we now offer hot meals in addition to traditional cold salad and sandwich options 
Offer a buffet—we ensure foods are served individually by a member of our staff
Set up a station—we still offer coffee stations and the like, but they're pre-set with cups, lids, stirrers, and napkins, so nothing is pulled from a common stack 
Serve a plated meal—if any meals have preset courses, they're covered
Use our outdoor spaces for dining events  
Can planners choose outdoor options? 
Yes, we have a beautiful terraced garden that's incredibly versatile. Recently, we hosted a closing reception in the garden area where attendees enjoyed the extra space and safety it provided. Explore ways to use our garden. 
How do you support hybrid events? 
Our internet infrastructure allows us to create customized high-speed connections for streaming up to 300 MB. You don't even have to purchase your own virtual platform or streaming equipment. Our preferred provider, South Carolina Audio Visual (SCAV) provides software, cameras, and editing equipment to provide a "turn-key" link so that you can focus on the important business of planning an event your attendees will remember.
The best part is that when you rent the equipment from us, it comes with an AV tech for the duration of your event to help with any necessary troubleshooting.
Have more questions about safely hosting an event? We're happy to help. Reach out today.