Bring Farm to Table Flavor and Flair to Your Event
General Information
Columbia Metropolitan Convention Center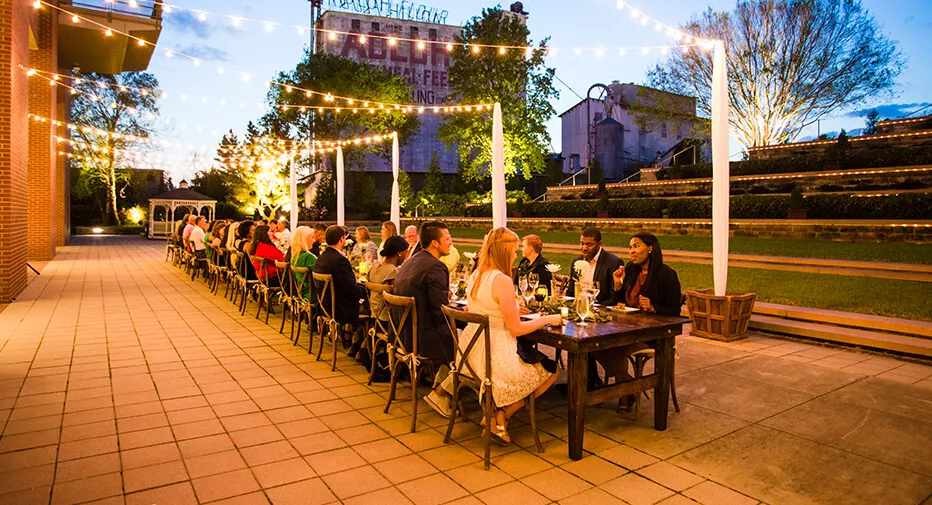 Make Your Event Out of the Ordinary 
Our clients continually ask us how they can make their event experience stand out. Our advice: give your guests food and beverage experiences that will surprise them. We'll break down two recent CMCC events and how we delivered an unexpected experience for our clients. 
Two Events, Same Charm
Capitalizing on our talented chef - Tom Kasperski's - passion for using fresh, local products, and the farm to table trend sweeping the food industry, we put on two charming events this spring and summer. Our spring event was an outdoor garden dinner for 42 of our dedicated CMCC clients, while our summer event was an indoor farm to table dinner overlooking our garden terrace for a group twice the size - 85 SC State Firefighter Association attendees and guests. 
Catered Service in an Intimate Setting 
Hosting a dinner event at CMCC means you can customize your space, your atmosphere, and your menu, rather than conforming to a restaurant's vibe and setup. You can also select any type of service - stations, family-style, multiple courses, or a traditional plated meal.
Our terraced garden is a beautiful space to host a dinner party. It gives conference attendees a break from the workshops, breakouts, and panels. Evening guests get a tranquil, natural setting just minutes from Columbia's nightlife, entertainment, and hotels.
Completely Custom Menus 
Both of our dinner groups wanted to show their guests their appreciation with a memorable evening. The CMCC client event was a 7-course dinner over the course of an evening, and the Firefighters were in town for a week. They hosted their executive team for a 3-course dinner before kicking off their Annual Fire Rescue Conference at CMCC attended by thousands of firefighters across the state. 
Chef Tommy is truly gifted at producing fresh, creative menus to scale. Whether it's 42, 85, or a thousand, we bring custom menus to over 85% of our clients. Our team can bust out all the bells and whistles or help you make strategic decisions and stick to a budget. Take a look at our custom farm to table menus. 
The 7-Course Menu
Sliced Edison Farm's Country Ham, Sweet Potato Crepe, and Lychee Fruit
Chilled Peach Cilantro Soup Shooters
Roasted Beets, Baby Lettuce, Goat Cheese, Heirloom Tomatoes, and Candy Pecans 
Cast Iron Flounder Filet 
Sliced Fire Roasted Grass Fed Tenderloin 
Sorbet Served on an Asian Spoon 
Brenda's Krispy Kreme Bread Pudding Topped with Salted Caramel
"The food was absolutely some of the best I have ever eaten anywhere in Columbia. You have such a beautiful area and hope we can take advantage of it with one of our events." 

Andi Rawl
SC Economic Developers' Association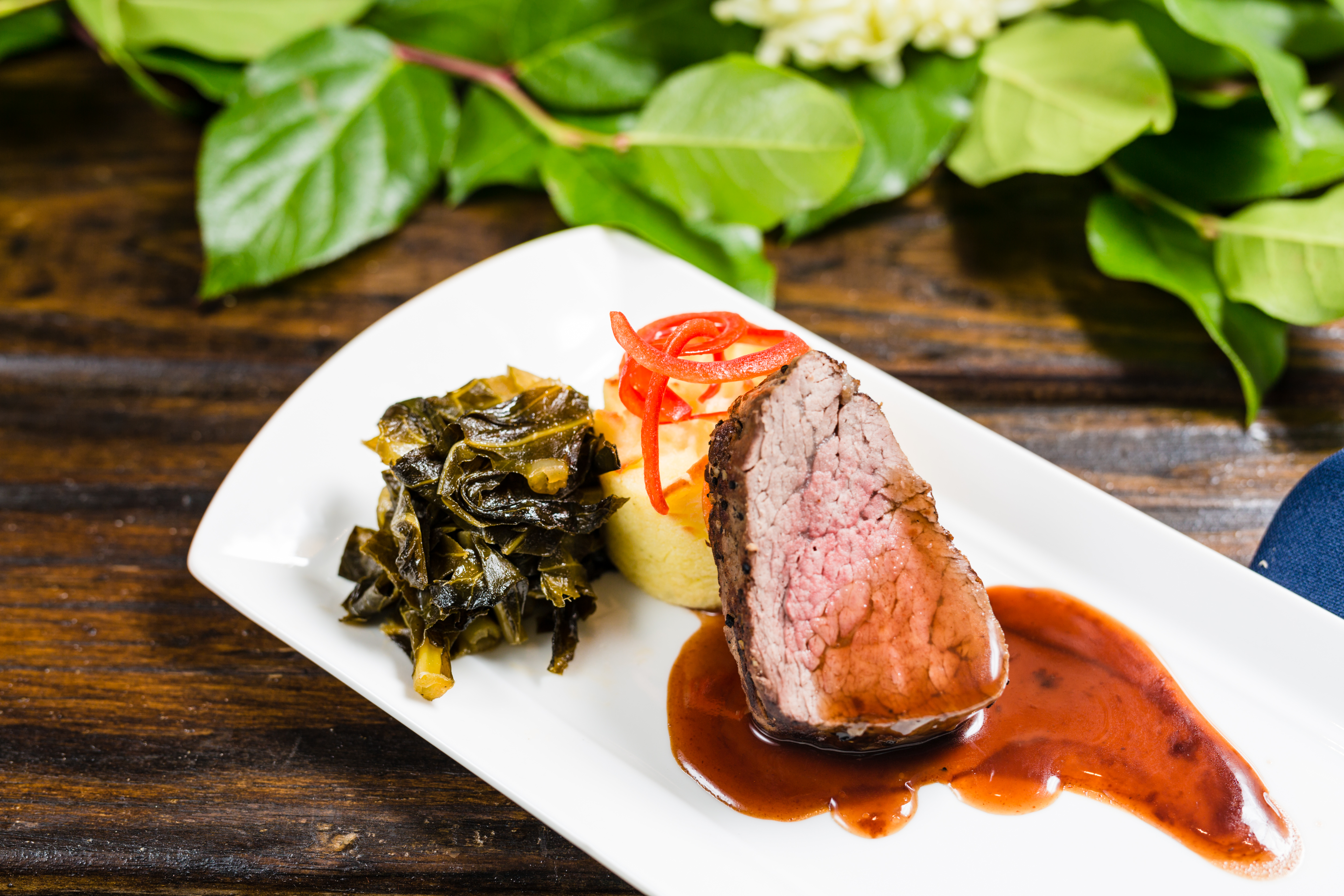 The 3-Course Menu 
Rolled Spring Salad with Golden Beets, Feta Cheese, and Shaved Carrot
Dry Rub Flat Iron Steak with Bourbon Onion Marmalade, Smashed Redskin Potatoes, and Fire Roasted Broccolini 
Action station: Liquid Nitrogen Ice Cream with Chocolate, Cherry and Nut Toppings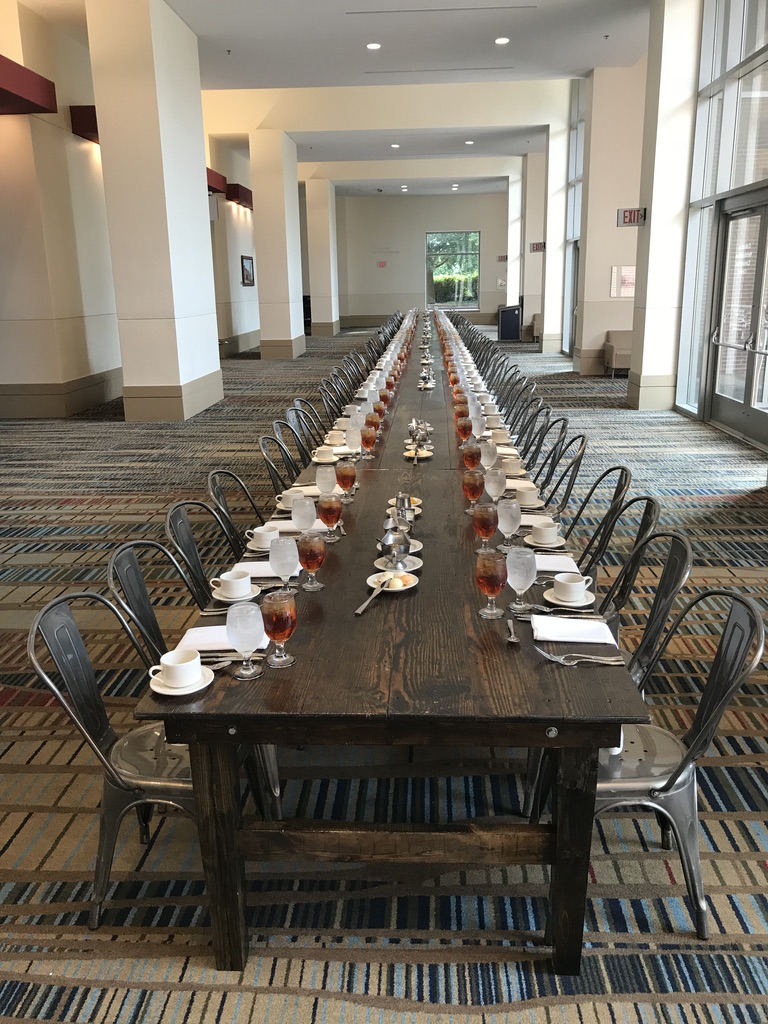 Ways to Use the Terraced Garden 
Think of our garden space as a blank canvas. We can work with you and your vision to create the perfect event, whether you're interested in hosting a reception, wedding, meeting, cocktail hour, casual dinner, or an upscale dining experience. Check out different ways to use or enhance the space: 
Lounge area
Create a speak-easy vibe with upscale furniture and a cigar bar or full-service bar 
Café lighting
Use our already installed hooks to easily add some southern charm and ambiance to the garden
On-Site Gazebo
Movable gazebo, perfect for wedding photos, a small band setup, or an elegant dinner backdrop
Lunch break
Ideal for groups who need some sunshine and a break from all-day workshops and conferences
Tent the space
Get shade in the summer or bring in heaters during the winter   
Group photos  
Our tiered step-ups in the garden are great for large group photos
Dress it up 
Work with our vendors to bring in china, linens, greenery, or speciality seating, furniture, and decor 
Get Creative with Us
Have we spurred your imagination? Ask about how you can enhance an event that's already on the calendar, or book a new event with us. We're always ready to help you plan a memorable event and an exciting custom menu.