Versatile New Rental Spaces at the CMCC
General Information
Columbia Metropolitan Convention Center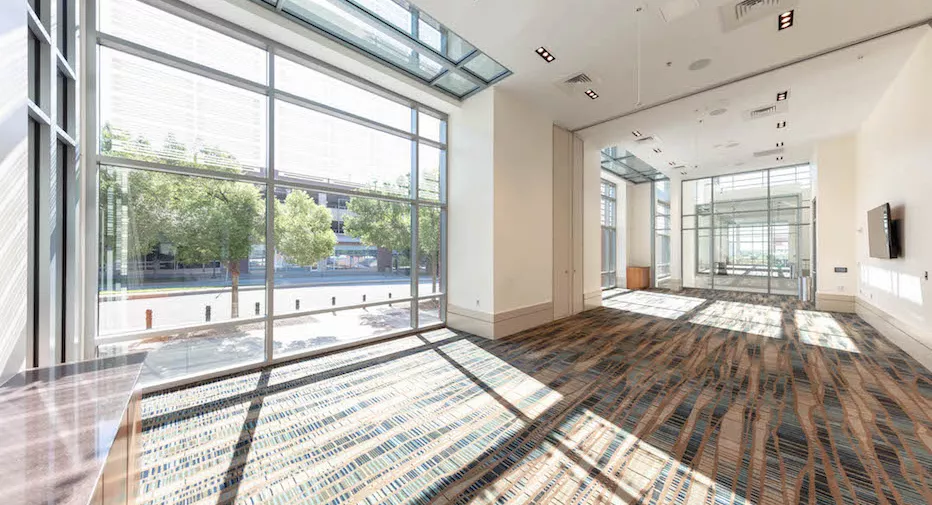 After months of a little extra dust and noise, the Convention Center is thrilled to offer new bright and versatile meeting spaces.
With new spaces like the Lincoln and Senate Rooms on the building's upper level (and mainstay rentals like the Spires Boardroom, also located on the upper level, updated with comfortable furniture and state-of-the-art technology), the Convention Center is better equipped than ever before to support clients in the pursuit of their event-planning objectives.
Versatile New Spaces, Perfect for Any Occasion
Other than a slight difference in square footage (the Senate Room offers 1,140 square feet of available space to the Lincoln Room's 933), both of these new spaces are virtually identical.
Spacious, inviting, and suffused with gorgeous natural light from the tall glass windows overlooking Lincoln Street and the nearby Colonial Life Center, the Lincoln and Senate Rooms offer all of the amenities that event planners have come to depend on for their functions to proceed smoothly—with none of the impersonal corporate dreariness long associated with rental spaces of this size.
Lincoln and Senate Room Features
Since they were first completed this past April, event planners have booked the Lincoln and Senate Rooms for over 100 different occasions.
With a host of built-in audio-visual technologies available at no additional cost, and the flexibility to accommodate setups from conference tables to receptions to breakouts, it's no wonder that these spaces are already so enormously popular with Convention Center clients.
Here's a sample of what renters can enjoy when they reserve either of these two spaces:
Automatic air wall capability, perfect for subdividing each room into two equal spaces of about 500 square feet each
Full wall of windows, allowing for natural light
Automatic shades that lend renters a sense of privacy, or just block persistent sunlight on particularly bright days
Audioconferencing capabilities
Two 70-inch LED television screens
Wireless A/V connectivity
Ideal Uses for These Spaces
From the City of Columbia, to the Women's Rights and Empowerment Network, the University of South Carolina, and countless others—the Lincoln and Senate Rooms have met the needs of clients across a range of industries, from higher education to local and municipal governments, advocacy groups, professional organizations, and more.
Interested in hosting an event? The new Lincoln and Senate Rooms can seat up to 75 and 86 people, respectively, and are ideal for the following, just to name a few:
Banquets
Breakout spaces for small group discussions
Hands-on employee training sessions
Receptions
Team headquarter spaces for conference hosts
Photography and portrait spaces
VIP spaces
Green rooms
What's more - these options have the added benefit of being incredibly affordable. The Lincoln Room is available for just $250 per day, and the Senate Room for $300 per day, which both include access to the built in AV. There are also even more discounted rates available for non-profits, and during slower times of the week and year.
Submit your request for proposal today to get the reservation process started.
A Refurbished Boardroom Equipped with State-of-the-Art Technology
Need a place to host your C-Level employees and board members for an intimate conversation?
The Convention Center has got you covered. The newly refurbished Spires Boardroom offers all of the amenities--not to mention all of the privacy—that participants need to engage in serious and substantive conversation.
Spires Boardroom Features
Past event organizers have praised the space not only for its comfort and seclusion, but also for its streamlined access to technology. Built-in A/V systems minimize the hassle of setting up and breaking down essential equipment—and also eliminate the need to borrow equipment from a third party entirely.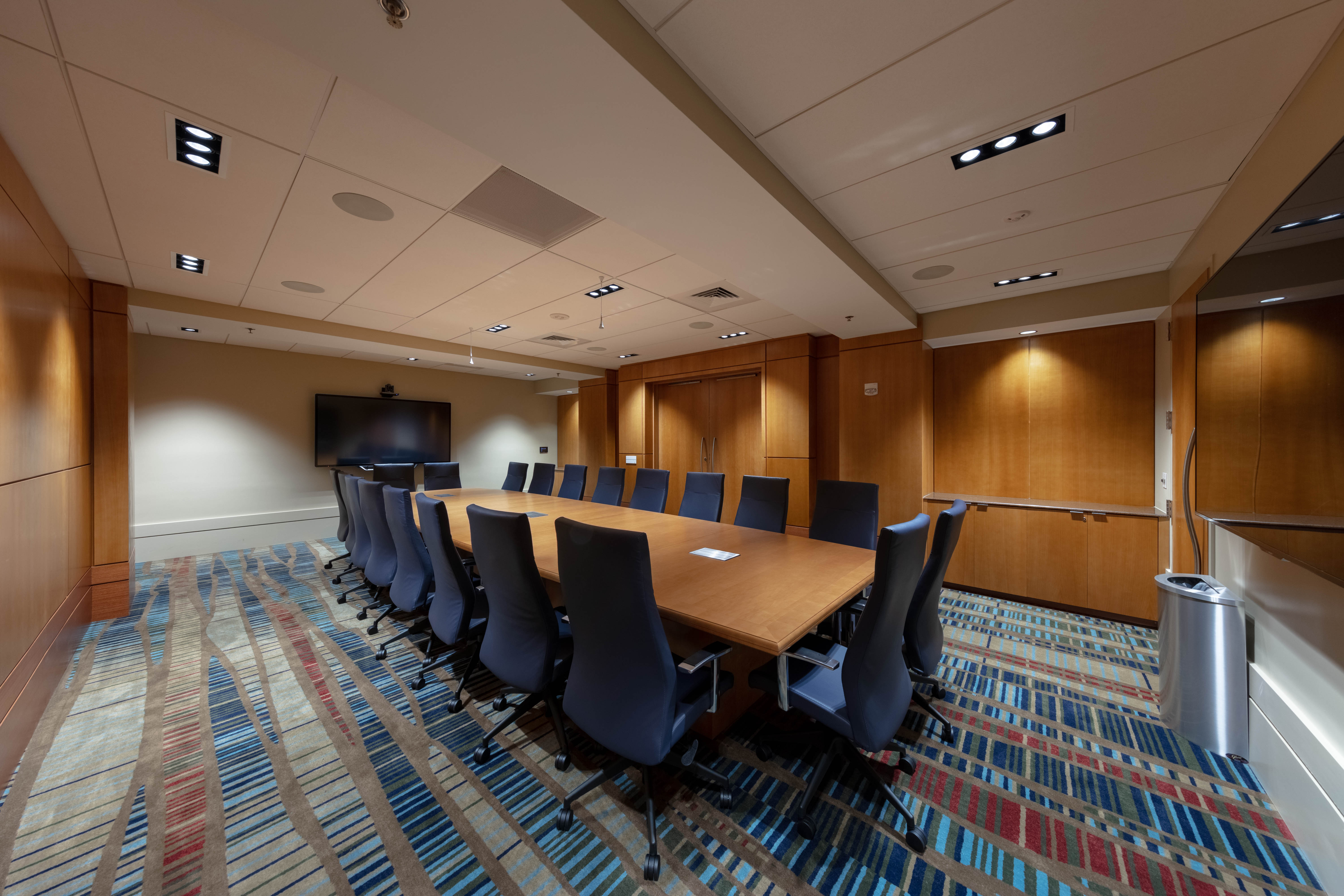 When event organizers reserve the Spires Boardroom, conference participants enjoy:
Apple TV access, perfect for displaying content straight from your iPhone using its "mirroring" function
In-house PC unit for those who don't wish to bring their personal computer
Large, custom-built boardroom table fitted with electrical outlets for easy access
Lush, comfortable furniture
Two 80-inch LED televisions with touchscreen capabilities
Videoconferencing capabilities
Wireless A/V connectivity
Available at a rate of $450 per day (lower rates available for non-profits, and during slower times of the week and year), the Spires Boardroom is more than well equipped to meet the needs of your board or executive-level team members. This rate includes access to all of the built in technology.
Whatever your event planning needs may be, the Convention Center can connect organizers with the solutions they need to get things up and running. Get in touch to get started today!