Summertime Savories from Our In-House Catering Company
General Information
Columbia Metropolitan Convention Center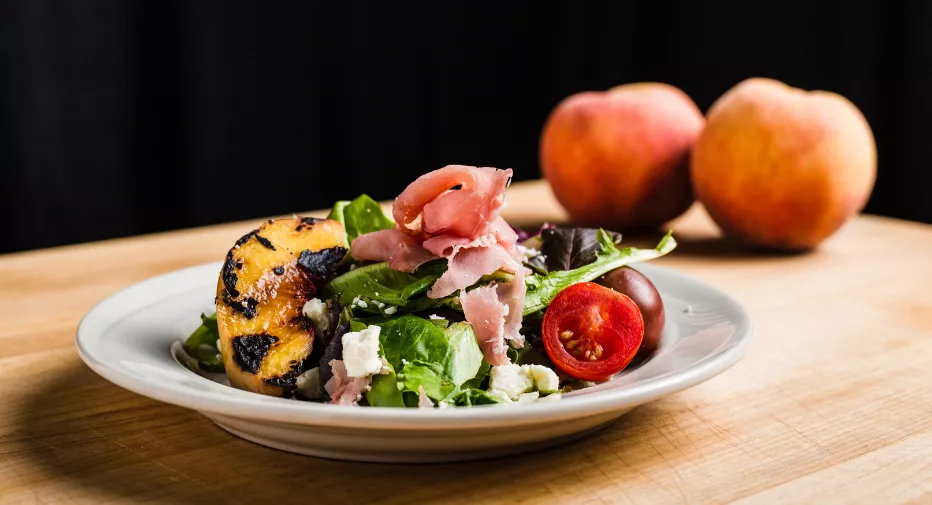 July is officially here, and with it, all the flavors of summer we so enjoy. From vine-ripened tomatoes and summer squash, to Carolina barbecue and tangy lemonade - there's no shortage of Southern favorites here.
Get the inspiration you need for your next feast by perusing these scrumptious menu items, lovingly prepared by Chef Tommy Kasperski—resident flavor wizard for our in-house catering company, Spectra.
Ready to dig in?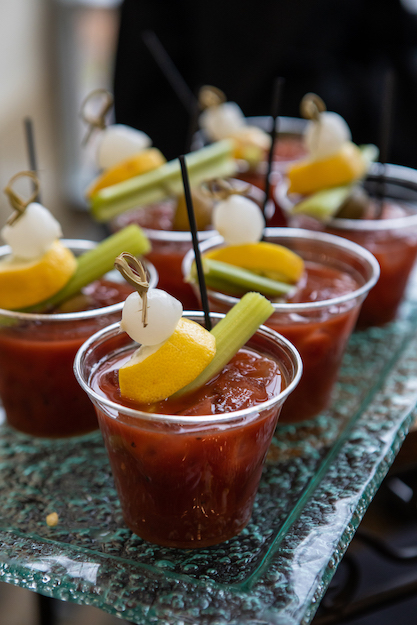 Vodka & Tomato Juice? Bloody Delicious
Take your event to the next level with a brunch beverage. Nothing staves off the Carolina heat quite so much as an ice-cold, Bloody Mary. Here at the Convention Center, we like to keep things simple.
When it comes to garnish, we recommend you stick to the essentials - olive, celery, lemon, and a pearl onion will do the trick. And, if you're hosting guests, set up a drink station so that you're able to enjoy your gathering, instead of mixing drinks on behalf of everyone in attendance. Bottoms up, buttercup.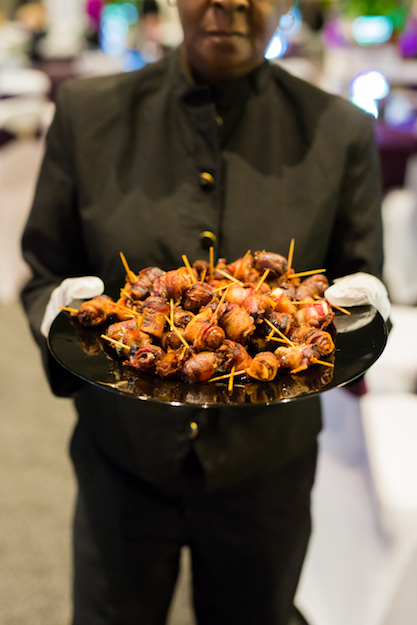 Dates & Bacon: A Match Made in Heaven
This is the perfect combination of rich summer flavors (not to mention textures): sweet, chewy dates wrapped tightly in crispy, crunchy bacon.
Hosting a formal event? You'll definitely want these little guys on your menu.
Delicious, filling, and bite-sized, these treats don't just pack a flavor wallop, they're unlikely to make much of a mess, since they arrive pre-speared with toothpicks. They're the perfect addition to your evening cocktail party.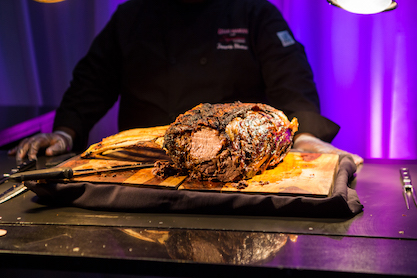 Serve to Impress
Want to make a real impression on your guests?
Jaws will drop and mouths will water at the sight of a bone-in Tomahawk ribeye-carving station. The juicy, hearty flavors are out of this world, to be sure, but the presentation alone can lend your formal black-tie evening event the sort of "wow" factor you need to floor your attendees.
Pair with homemade horseradish mayonnaise and au jus, both Chef Tommy specials.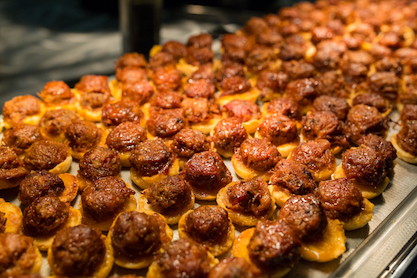 Fluffy Biscuits, Tangy BBQ
Not to dive into the barbecue sauce debate, but South Carolina is famous—some naysayers might say notorious—for its mustard-based barbecue sauce. What better way to showcase the signature sauce than mini BBQ pork biscuits like this?
With a crunchy, buttery base and a dollop of tangy, melt-in-your-mouth barbecued pork on top, it can be next to impossible to stop yourself from scarfing down an entire tray on your own. By the end of your event, Chef's BBQ biscuits might turn you vinegar-based aficionados into die-hard mustard-based obsessives.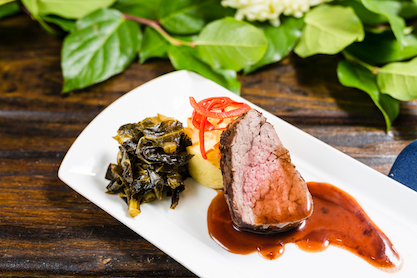 Farm-to-Table Fresh
We're all about sustainability here at the Convention Center.
That's why, with virtually every menu we prepare, we rely on local, ecologically responsible vendors to supply us with our ingredients. We're committed to delivering meals of the utmost quality for all of our guests, regardless of the size of their event.
Fire-roasted, grass-fed tenderloin of beef with Duchess potatoes, collard greens, and oyster mushrooms - these aren't summer flavors, exactly, but then again, decadence and deliciousness are always in season. Next time you're hosting a dinner party, consider preparing an impeccable entree like this for your guests.
Consider reaching out to the Convention Center staff to organize your next event with us. We'll help you with food, event coordination, and so much more.