Creative Event Space at the CMCC
General Information
Columbia Metropolitan Convention Center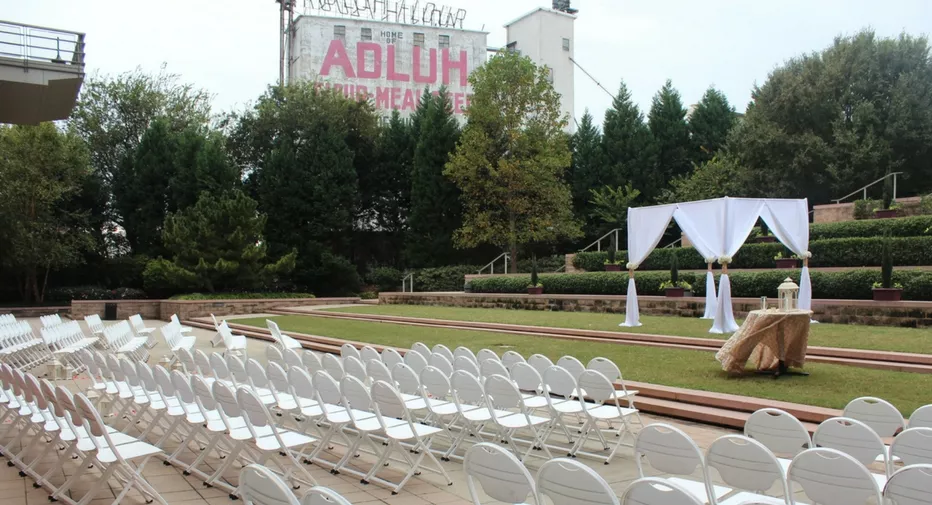 The Columbia Metropolitan Convention Center is not just your usual meetings, events and conventions facility. Here, you can find a range of creative options to make your event a one-of-a-kind experience. From creating an indoor sand castle to an outdoor garden lunch, here are just a few examples of CMCC's imaginative use of space and design.

Columbia Ballroom
Details: 16,704 square feet, 24' high ceilings
Capacities: 960 people in round tables, 1,386 people in theater style, 1813 people in reception style.
What's special about it?: The floor to ceiling windows in the Ballroom prefunction space overlook the beautiful garden area. This room features elegant finishes and lighting that really set the event apart. The Ballroom can be divided into up to 3 sections, and has rigging points built in for décor and audiovisual. 
Out of the ordinary: When a large company, with over 12,000 attendees, chose the CMCC ballroom to host their annual company event, the CMCC and the client worked together to make the event different and special. Instead of using the ballroom in its traditional capacity as a meeting or banquet space, the CMCC turned it into an interactive environment, complete with photo booths, a graffiti wall and the CMCC's leather cube seats, used to create an intimate lounge-like setting. All of this tied into the company's event theme and created a welcoming atmosphere that was both fun and engaging for attendees.
Traditional made special: The Ballroom is a popular location for many seated banquet events, due to its great size, elegant tall ceilings, and beautiful wall finishes and lighting. To really spotlight one client's big donors, the CMCC elevated sponsorship tables beside the stage for a dramatic effect that highlighted their participation. This one simple touch took what was originally a traditional event to another level that went far beyond the sponsors' expectations. 

Exhibit Hall
Details: 23,700 square feet, 30' high ceilings
Capacities: 1,136 people in round tables, 2,072 people in theater style, 2,600 people in reception style.
What's special about it?: With no columns, our Exhibit Hall includes full men & women's restrooms, a private keyed show office, built in optional concession stand, and rigging points throughout to accommodate many options of audiovisual and event design. Carpet and lighting can be used to transform this space from a tradeshow hall to an elegant dinner. 
Cars on parade: From local first responder's graduations, to tradeshows and meetings, clients love to utilize our elephant doors which allow vehicles up to the size of an 18 wheeler to be driven inside the building. Squad cars line the front of the building for highway patrol graduation, and firefighters see how many trucks they can fit in the Exhibit Hall for their graduation. Clients often use both the large exhibit hall space, as well as the prefunction space to display vehicles- a great alternative to having display cars in the parking lot. Indoor displays offer protection from bad weather and keep attendees where you want them - in the exhibit hall.
Vendor shows: The large Exhibit Hall space allows clients the opportunity to incorporate multiple uses into one arena. By providing booth space, a reception area, and food service all together in one large room, attendees can easily move around, and are more inclined to stay-network, visit booths or relax for a moment over a drink or a bite to eat. 
Colorful Displays: CMCC partners like Displays Unlimited, our preferred decorator, works with clients to utilize different colors or design elements to add a wow factor to their events. For example, one client chose bright green skirted tables for their entire show, which created a simple, but unique and cohesive look for their event.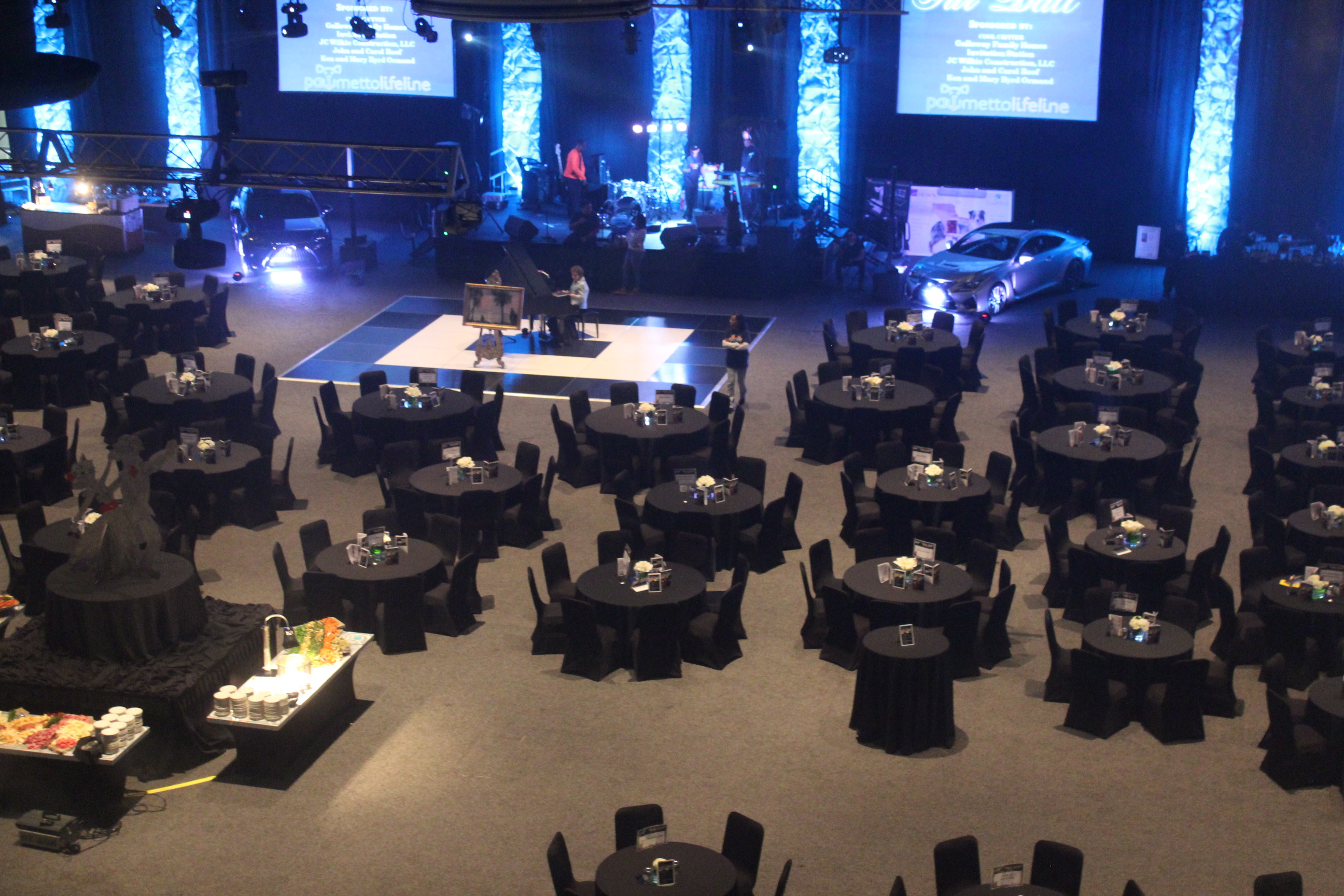 Meeting Rooms
Details: 7 rooms, which can be divided into 12 spaces or less, totaling 16,718 square feet, 9'- 15.5' high ceilings
Capacities: These rooms are designed to be flexible, and can accommodate anywhere from 12 people at a conference table, to 490 people theater style. The rooms can be configured to offer 8 equal breakouts of approximately 2,000 square feet each.
What's special about it?: The flexibility of the meeting rooms allows the CMCC to customize the configuration to your needs, and it also allows the space to grow as the group grows year over year. 
Additional meeting space provides CMCC with opportunities to create smaller, unique environments. An event theme can offer the perfect creative challenge for the CMCC team. For one event with a beach theme, the team went that extra step, working with the group to build a giant sand sculpture in the Richland Room for their evening banquet.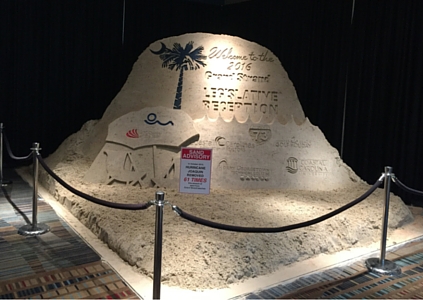 Prefunction Space
In need of additional break-out space or small discussion group areas? CMCC offers a variety of ways to help clients take advantage of all the space they have to offer. From vendors, to pre-event receptions, to adding rounds to provide lunch seating, the prefunction space or concourse areas outside of rooms can be used for multiple purposes.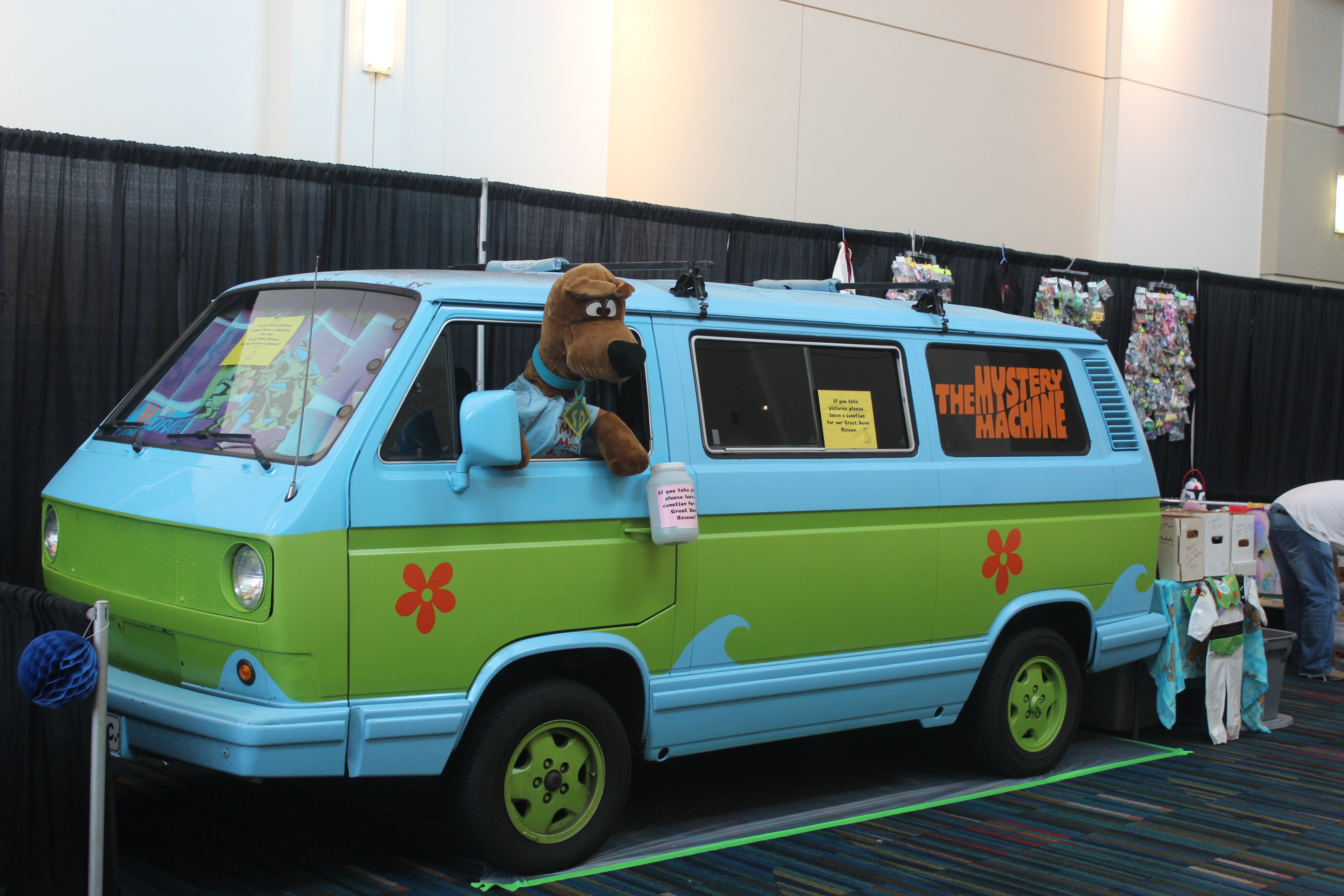 The Greater Outdoors
The outdoor turnaround area offers a perfect location for large display items like solar panels for a "going green" event, a bus for a blood drive or a car for an auction, as well as press conferences or small break outs. For events like low country boils, small receptions or overflow lunch seating, the CMCC garden area provides a beautiful environment.