Meet the Team: Cheryl Swanson, Vice President
Cheryl Swanson, CVE
Vice President/General Manager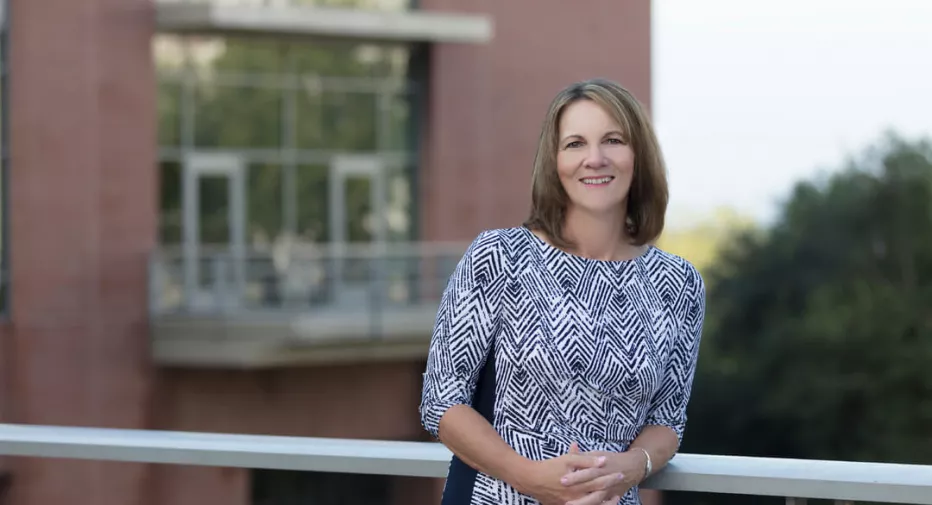 Our Meet the Team series introduces you to the people at the Columbia Metropolitan Convention Center that help bring your idea for a meeting or event to life. Find out more about Cheryl Swanson, Vice President/General Manager, including how she started her career in venue management and what's on her list of things to do in Columbia. 
How would you describe your responsibilities as Vice President/General Manager?
As Vice President/General Manager, I am responsible to provide leadership and overall management of the Convention Center. I oversee the five individual departments that provide services which include Sales, Events, Operations, Engineering and Security. CMCC contracts food service, technology, audio visual services, decorating and other resources as needed by the client or the specific event. While I am responsible for the day to day management, I also develop strategic plans to direct the convention center's growth aligned with the community's needs, keep the center a source of pride for Columbia and remain competitive within the market.


How did you get your start in venue management?
From positions as a Booking Manager to Executive Director, I have enjoyed managing convention centers, performing arts theaters, football stadiums and arenas. I have opened new arenas and have demonstrated success turning financially struggling venues into profitable organizations. While my original career was nursing and health care administration, my first position as Bookings Manager at the Sioux City Convention Center, Auditorium and Tourism Bureau created a passion for events. That position launched opportunities to become the Executive Director in other nationally recognized arenas.
I have been enthusiastically involved with International Association of Venue Managers (IAVM) which provides educational and networking support. As an advocate of lifelong learning and 4 degrees, I credit IAVM with the practical applications to ensure success in a venue. I achieved the status of Certified Venue Executive (CVE) which is validates competency in venue management. I have provided leadership in numerous capacities from Convention Center committees, Research, Conference planning, Region Chair and others. I have frequently presented on current topics at conferences. I attended IAVM's Venue Management School as a scholarship recipient when I first started in the industry. I have tried to pay it forward ever since. I am the immediate past chair of the school's Board of Regents and have served on the faculty for 6 years. In my position of Curriculum Chair, Venue Management School partnered with USC's College of Hospitality, Retail & Sport Management to evaluate written materials and critique presentation techniques. I worked closely with several USC faculty from that program. Now that I am in Columbia, I have guest lectured at USC. At Venue Management School, I teach Event Management, Revenue Sources and Negotiations. I had the rewarding experience to teach in a similar program to venue managers in Australia 3 years ago. I have also served as Chair of IAVM's Senior Executive Symposium leadership training at Cornell University. I have served on IAVM's Board of Directors on 3 separate occasions. I am active in a Mentor Connector program to provide support to new venue managers through IAVM. IAVM has provided not only educational tracks, but networking connections as well.
I was humbled to receive Venue's Today Women of Influence award in 2014 acknowledging expertise in the event and entertainment industry. With that honor came an obligation to participate on panels at USC's SEVT Conference (Sports, Entertainment, Venues Today Conference). I experienced the Convention Center and enjoyed Columbia as a conference presenter -- and now I am here as the VP/General Manager!
 
What do you love about the venue management industry?
I love the venue management industry because of the immediate satisfaction and excitement. The goal is for clients leave the venue happy and satisfied because the team exceeded their expectations. Our job is to create that positive experience and great memories. Detailed planning and coordination with a team of professionals to create an experience in a safe environment is our target goal. My career path has provided opportunities to produce major concert artists, family shows, NCAA Division I games and tournaments, trade shows, banquets, international speakers, weddings, conferences and small meetings. Seeing a client, fan, bride, attendee or vendor happy with their event is very satisfying. And no two days are alike!
Beyond the day-to-day, my career path has provided opportunities to produce major concert artists, family shows, NCAA Division I games and tournaments, trade shows, banquets, international speakers, weddings, conferences, and small meetings. 


What's been your most memorable moment at CMCC?
I have been touched by the closeness and bonds that makes up the CMCC and Experience Columbia family of employees. It's not one individual memorable moment, but many moments displayed week after week as staff support each other, assist each other and truly respect each other. CMCC is an incredible organization.

What are some of your favorite things to do in Columbia?
As a new South Carolina resident, I am frequently asked if I have yet visited the mountains or the beach or numerous other areas outside of Columbia. The answer is usually "no". I have found so much to do in Columbia that I have no need to travel. As an avid golfer, I surprisingly haven't golfed much either. We have become members of Riverbanks Zoo, been to the SC State Museum and EdVenture, explored walking trails, Lake Murray, restaurants -- and more restaurants! I was here for the eclipse which was phenomenal and the planned city-wide activities added to the excitement. We've attended the State Fair (twice in one week), Soda City Market (numerous times), Vista Lights, Saluda Shoals Holiday Lights, USC Football and basketball, the Fireflies games, boat shows, and home shows. If I had to select a "favorite" thing to do -- just listening to the birds sing, enjoying the beautiful blue sky and the warmth of the sun (until it gets really hot!!!!). I truly feel blessed to be here.

What's still on your list of things to do or try in Columbia?
I definitely will try the Zip Line at Riverbanks Zoo, kayak on the river, tour the Capitol, sail on Lake Murray, and experience the Bridge Dinner (if I can find a ticket!). I plan to explore more walking trails and golf courses. We love the outdoors and Columbia provides a multitude of activities to keep us busy! As I have become more familiar with the community, I plan to become involved with service agencies or volunteer time as my contribution back to this wonderful city of Columbia.